Knitting & Crochet
SIGN UP TODAY for The Hen House Yarn Sampler Club...Starting January 2017 receive 1 skein of yarn every other month (total of 6 for the year), each a different content and weight yarn all HAND DYED by Stephanie. Only $30 each shipment (plus tax & shipping). We will charge your credit card after the 1st of each month and the yarn will be shipped around the 15th of Jan, Mar, May, Jul, Sep, Nov.
You will also get a different color each shipment, some exclusively designed for the yarn club members.
To sign up send an e-mail to thehenhousetx@suddenlink.net with a phone number to reach you and we will contact you to get your shipping and credit card information.
Some of our newest and most popular items pictured below
check out the Knitting Samples page for yarn and pattern details
Sunday Shawl (front & back) Chandelier Shawl 3 Color Way Shawl A Lady's Lace Shawl
Catherine's Shawl Eyelet Button Cowl Twice as Nice Shawl Sundance Poncho Caddie Shawl
Shawl of Many Colors Texas Nine Step Cowl Oscar's Friend Daushund Kit Mary's Little Lamb Kit Fur Cowl Kit
Snowflake Fair Isle Kit Slouchy Cap Bulky Eyelet Cowl Kit Gumball Hat Kit Alpaca Ombre Cowl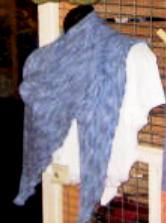 Stripe It Up Cowl Kit Summer Poncho Kit Moebius Cowl Shibui Silk Cowl Kit Cherokee Lace Shawl
Eyelet Button Cowl Jenn's Bulky Cable Cowl (long/short versions) Mexico Surprise Cowl Sock Yarn Cowl
The Hen House Hand Dyed yarns include:

Catherine' Cashmere finger weight, 80% superwash merino, 10% Cashmere, 10% Nylon - 500 yards - $39.95
Lady's Lace (Opal)- lace weight, 100% superwash merino, - 475 yards - $24.00
Cherokee County Lace - lace weight, 65% superwash merino, 35% bamboo - 350 yards - $19.00
Fancy Feet Sock - sock weight, 60% superwash merino, 30% bamboo, 10% Nylon - 434 yards - $25.95
Country Creek Sock (Carnival Glass) - sock weight, 50% superwash merino, 50% tencel - 412 yards $25.95
Cedar Gum Sock (Stained Glass) - sock weight, 75% superwash merino, 25% nylon - 434 yards $22.95
Underwood Fingering - 75% Superwash Merino, 15% Nylon, 10% Tencel approx 4 oz, approx 434 yards $26.95
Steph's Glitz - 92% Superwash Wool, 8% Lurex (gives it the glitz and sparkle) approx 4 oz, approx 410 yards $28.95
Oscar's Silk (Turquoise Jewel) - worsted weight 60% merino, 40% silk - 250 yards $38.95
Cousin Jettie Worsted - 100% Merino Wool approx 3.5 oz, approx 175 yards $22.95
Jenns Bulky Yarn - 100% Superwash Merino approx 3.5 oz approx 120 yards $22.95
Blackjack Worsted (Kaleidoscope) - light weight worsted, 100% superwash merino - 540 yards $54.95
Caddo Worsted (Blackberry) - worsted weight, 100% superwash merino - 210 yards $24.00
Some of our most popular colors are:
Blackberry, Boots & Jeans, Pomagrante, Stained Glass, Carnival Glass, Harvest Thyme, Sante Fe, Turquoise Jewel, Turquoise, Garnet, Oliver Twist, Peacock, Ralph's Blue, Tuscany, Opal, Wild Birds.